Epigraph Quote:
Marie May 23, 2015 at 10:06 am
Why are they letting this stuff go public, you ask? I think they're trying to provoke some of us "conspiracy theorists" to go after them in some violent way. It'll only take one nut wearing an InfoWars T-shirt… That will give them an excuse to clamp down–and save them the trouble of creating another false flag!
Webmaster (ETK) Comment: Or more likely, going public this way 1) is an intimidating show of military force to cause the majority to give up, and 2) allows NSA and other spies to identify which community leaders are potential resisters to martial law. These citizens can then secretly be placed on the "Terrorism Watch List" and covertly neutralized/tortured via organized stalking!"
OPERATION JADE HELM
JULY 15, 2015 TO SEPTEMBER 15, 2015
MILITARY DRILL ACROSS 10 STATES UNDERGROUND TUNNELS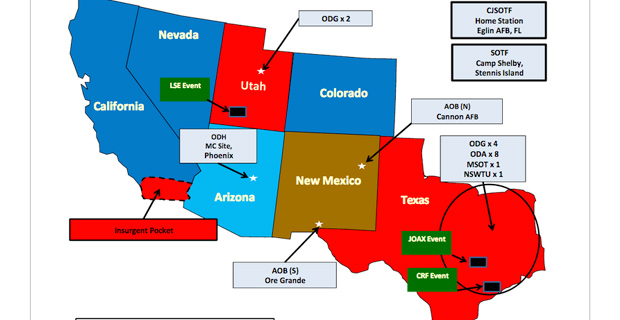 texas hostile
A newly released military document details the US Army's plan to wage war on the American people.
NOTE: DISCLAIMER:
ANYTHING YOU SEE ON THE VIDEOS BELOW ARE PERSONAL OPINION
NOT NECESSARILY TRUTH!
USE YOUR OWN JUDGMENT WHEN WATCHING AND LISTENING.
Steve Quayle Reveals True Purpose of Jade Helm Exercise
https://www.youtube.com/watch?v=4KGKX2NlaAY
Alex Jones descibes martial law and Operation Jade Helm
JADE HELM IS NOW LIVE
https://www.youtube.com/watch?v=pEbCIClFgI8
JADE HELM – THE HARDCORE TRUTH
https://www.youtube.com/watch?v=K4310XOz4tc
JADE HELM – MASS CASUALTY UNITS DEPLOYED
https://www.youtube.com/watch?v=EfxZT_a5uIc
JADE HELM – MARTIAL LAW
https://www.youtube.com/watch?v=vgamWUUeDjg
JADE HELM – BLACK OUTS AND POWER OUTAGES
https://www.youtube.com/watch?v=zureyTUpeK8
JADE HELM- LEAKED INFORMATION
https://www.youtube.com/watch?v=wEDpUKjIR54
https://www.youtube.com/watch?v=2U-PNPOiLjo
INFOWARS tells what this training exercise is all about
https://www.youtube.com/watch?v=E_cDITIWtZI
A TEXAS RANGER REPORT:
https://www.youtube.com/watch?v=GORj647PUzo&app=desktop
CHUCK NORRIS REPORTS
military Texas
Texans monitor Jade Helm military training amid fears of government plot
Chuck Norris thinks it's 'likely more' than a US army exercise and Ted Cruz and the governor of Texas counsel caution. Some citizens plan a counter-operation
It is, according to Chuck Norris, "likely more than a military exercise".
For senior Texas politicians, it is enough of a concern that they demanded it be monitored by state armed forces. And for a great many citizens, it is at best a secretive and dubious show of military might and at worst, the prelude to martial law, Barack Obama confiscating their guns and locking innocent Americans in internment camps.
Whatever it truly is, Operation Jade Helm 15 begins on Wednesday in states across the south-west. Hundreds of people will be waiting for the troops when they roll in, watching closely.
A counter-surveillance operation called Counter Jade Helm has been set up and volunteers are aiming to locate, track and observe US soldiers as they carry out training drills. The volunteers will gather intelligence that will be relayed to a headquarters in Arizona and posted on a website.
"Why [Jade Helm] exists, we're not quite certain," said Eric Johnston, who will run surveillance teams in central Texas. Counter Jade Helm also plans missions in California, Utah, Nevada, Arizona, New Mexico, Louisiana, Mississippi and Florida.
"They're not inviting any media to embed with the units," said Johnston, "and it's important for Americans to step up and look around and say, 'OK, what are you doing?' 'Well, it's secret.' Not if it's in public – it's no longer secret."
They're not inviting media to embed with the units, and it's important for Americans to say, 'OK, what are you doing?'
Eric Johnston
The two-month exercise has been described by the US military as a routine, though unusually large, training event for a variety of units that will take place on both private and public land in order "to practice core special warfare tasks, which help protect the nation against foreign enemies".
The pushback has been especially strong in Texas, where some of the army's biggest bases are located. The Lone Star State has been designated as "hostile" territory in the exercise. If nothing else, this is a fair assessment of the state's prevailing attitude towards virtually anything linked with the Obama administration, or anything perceived as an encroachment on Texan independence.
On Saturday in San Antonio, protesters gathered outside the Alamo to decry its new designation as a Unesco World Heritage site, on the less-than-rational basis that this honour could be the prelude to a United Nations takeover of Texas' most sacred landmark.
Concern has reached into the highest echelons of state politics. In April, Republican governor Greg Abbottordered the Texas state guard to "monitor" Jade Helm, in order "to address concerns of Texas citizens and to ensure that Texas communities remain safe, secure and informed about military procedures occurring in their vicinity".
In May, Ted Cruz, the US senator and Republican presidential candidate from Texas, told Bloomberg he had no reason to doubt the Pentagon's assurances about the exercise, but added that suspicion was a natural consequence of the federal government's generally untrustworthy behaviour.
In this hysterical climate – and given a lack of detail from the army – outlandish claims have proliferated. Weeks after production of Texas' favourite ice cream, Blue Bell, was halted by a listeria outbreak, internet rumours began circulating that the army was using, or will use, the company's refrigerated trucks to transport dead bodies.
Conspiracy theorists have also focused on supposed underground tunnel systems leading to Canada and Mexico and whether the army is turning abandoned Walmart stores into concentration camps.
One of the Jade Helm hubs is expected to be the small town of Bastrop, near Austin, where officials spent hours at a meeting in April trying to assuage the worries of residents. Such fears ranged from understandable concern about traffic and disruption to daily life, to whether the military has more sinister motives for embedding itself in the pine-forested surrounds of what locals like to call the Most Historic Small Town in Texas.
Johnston, a retired firefighter and police officer in Arizona who now lives in the Texas hill country, spoke in measured, calm tones and said he and his colleagues were focused on basic transparency, not outrageous conspiracy.
"We are not far-wing, 'Oh God, arm ourselves, get in camouflage, block the streets,'" he said. "We're doing more of a neighbourhood watch kind of thing.
"We are going to find a central location and set up an area and just cruise the streets, drive up and down the highway through Bastrop … most of us are legal concealed-carry folks, but we're not going to be running up and down the street with automatic rifles."
Most of us are legal concealed-carry folks but we're not going to run up and down the street with automatic rifles
Eric Johnston
When some of the more far-out ideas are posted on his organisation's Facebook page, Johnston said, they get deleted.
"There's a lot of folks out there that are putting on their tinfoil hats and waiting for the end of the world to come," he said. "I don't subscribe to that theory … as far as martial law would go, the area you would pick would be more of a suburban area, downtown Austin, downtown Houston. You wouldn't schedule an event like that to take place in a tiny area like Bastrop."
Johnston said more 350 people in Texas had offered to help, including 20 to 25 in Bastrop, one of whom has a pilot's license. Two have ham radio licenses. Counter Jade Helm participants will stay in touch using a communications app on their mobile phones.
If something mysterious is afoot, Johnston, said, he wants to get to the bottom of it.
"Two and two doesn't add up," he said.
THE WALMART CONNECTION
https://www.youtube.com/watch?v=OCJfjiNUHQw
THE THREE PRONG ATTACK
OPERATIOM JADE HELM DECODED
JOHN B WELLS WITH D. J.
CHRISTOVAL, Tex. — The beige-metal community center on Main Street here next door to the fire station, the scene of 4-H Club meetings and family reunions, may never be the same. Jade Helm 15 is coming.
One resident said a friend of his, a Vietnam veteran, started burying some of his firearms to hide them. A farmer was rumored to have taken a different approach, by buying 20,000 rounds of ammunition. The superintendent of the school district thought he saw low-flying military cargo planes overhead. Members of the Christoval Volunteer Fire Department, which owns the community center, signed an agreement with military officials stating — oddly to some, suspiciously to others — that theArmy will pay for any damage to the building after it uses it.
Sindy Miller, who runs a hair salon on Main Street, said fears of a military takeover have been the talk of this West Texas town, southeast of Midland.
"They're worried that they're going to come in and take their firearms away," Ms. Miller said. "Martial law, basically. I try not to listen to all these conspiracy-theory-type people. All they're worried about is their beer and their guns."
Jade Helm 15, an eight-week military exercise that has generated paranoia for months fueled by conservative bloggers and Internet postings, begins Wednesday in Texas and six other states: Arizona, Florida, Louisiana, Mississippi, New Mexico and Utah.
The Army's Green Berets, Navy SEALs and other Special Operations troops will be conducting drills on private property, military bases and some public facilities. According to military documents, more than 1,200 service members will participate in the operation in Texas, in more than a dozen mostly small towns and rural counties.
Army officials say there is no cause for alarm.
"The public can expect little disruption in their day-to-day activities since much of the exercise will be conducted in remote areas," the organizer of the exercise, the Army Special Operations Command at Fort Bragg, N.C., said in a statement Monday.
But in a larger sense, Jade Helm 15 has already caused disruptions, particularly in Texas.
On the orders of Gov. Greg Abbott, the Texas State Guard will monitor Jade Helm 15 from Camp Mabry in Austin, the state capital. So will at least one national group of unofficial monitors and protesters that calls itself Counter Jade Helm. It plans to have teams of volunteers follow Army vehicles and post their locations to its website. Army planners and local elected officials have been busy answering questions from apprehensive residents and holding briefings for the Sheriffs' Association of Texas, the San Angelo Tea Party and county commissioners.
Off-base training exercises involving role-playing are not new — candidates for the Army's Special Forces take part in a four-week drill known as Robin Sage in rural North Carolina — but the size and scope of Jade Helm 15 make it unusual.
The military exercise will train Special Operations troops in what Army planners call "unconventional warfare." The exercise is being conducted in rural Texas because the military needed "large areas of undeveloped land with low population densities with access to towns," and wanted soldiers to adapt to unfamiliar terrain as well as social and economic conditions, according to Army documents.
In East Texas, near the Louisiana border, the troops have permission in Marion County to use their aircraft on a private runway. The community center in Christoval will be used for, as one local official described it, "an altercation site." A nighttime helicopter "extraction" will unfold in Disaster City, a mock community in College Station where emergency responders train.
Local officials who have been briefed on the exercise say it is modeled after the French resistance to Nazi occupation during World War II. It calls for some military personnel to play the role of the occupiers and for others to work undetected as part of the resistance. Military maps show Texas and Utah as "hostile," other states as "permissive," and still others as uncertain but leaning hostile or friendly.
Much of the paranoia over Jade Helm 15 is the outgrowth of an anti-Obama sentiment that is widespread in Texas and parts of the Southwest.
"It stems from an absolute distrust with the Obama administration," said Judge Stephen C. Floyd of Tom Green County, its top elected official. "I share a lot of their distrust of the Obama administration and their rule-making, but I have a great deal of confidence in the U.S. military."
According to some right-wing bloggers and activists, the exercise is part of a secret plot by the Obama administration to impose martial law, confiscate firearms, invade red-state Texas or prepare for instituting "total population control." A report on Infowars, a website operated by Alex Jones, a libertarian-leaning talk radio host from Texas, suggested Helm was an acronym for Homeland Eradication of Local Militants.
Military organizers have not explained the meaning of the exercise's name, its slogan ("Master the Human Domain") or its logo, which features a Dutch wooden clog at the center of two intersecting arrows and a sword.
The level of realism sought by Army planners, and uncertainty about whether troops will try to blend in with civilians during the exercise, have heightened the curiosity and unease among some Texans. The military has told local officials that fire extinguishers will be at each training site and that some personnel may carry weapons loaded with blank ammunition or paintball-style training cartridges. According to a PowerPoint presentation prepared by military organizers for Texas officials, some Jade Helm 15 participants "may conduct suspicious activities" as part of their training and others "will be wearing civilian attire and driving civilian vehicles."
In April, Mr. Abbott was criticized for giving legitimacy to conspiracy theorists when he ordered the Texas State Guard to monitor Jade Helm 15. The governor has been getting regular updates since then about the preparations for the exercise, but a spokesman for him said he has no concerns about it. "The Special Operations Command has assured Texas that this exercise poses no risk to anyone, and the governor sees no reason to worry or doubt them," said the spokesman, John Wittman.
In Christoval, an unincorporated town of about 500, Scott Degenaer, 53, smoked a cigarillo outside his home and said he was not sure what to think about Jade Helm 15. But he had suspicions. Two flags flapped in the breeze on his porch: an American flag and a Confederate battle flag. Signs on his house and in the yard read, "Pray for America" and "Warning: The door you are about to break down is locked for your protection!"
Mr. Degenaer, a Navy veteran, said that he saw a Black Hawk helicopter flying over Christoval on Sunday, and that he understood the paranoia that would lead some people to bury firearms.
"With Obama being in there," he said, "with the way he's already stomped all over the Constitution, pushing his presidential authority to the max, it would only be just the stroke of a pen for him to do away with that. This man is just totally anti-U.S. I mean, he just signed a deal with Iran."
Throughout the interview, Mr. Degenaer was skeptical whether the reporter and photographer who spoke with him were members of the news media and wondered if they were part of Jade Helm 15. "Spec Ops grows beards," he said, referring to the photographer's facial hair. "Y'all got a military ID?"
While much of the attention on Jade Helm 15 has focused on conspiracy theories, Army planners have spent months quietly persuading private property owners and small-town leaders to welcome them to their communities. Many local officials and ranchers have granted troops access to their land and buildings, without asking for compensation in return.
In the West Texas town of Eldorado, the local authorities gave the Army approval to use a vacant hospital for office space, although the Army did not ask to use it. And Eldorado's longtime mayor, John Nikolauk, said he is allowing the troops to use his ranch.
"We're a very patriotic part of the country and we think it's great," said Mr. Nikolauk, a former United States Air Force pilot.
Mr. Nikolauk and other local officials said they considered the Internet rumors about Jade Helm 15 far-fetched.
"If the government has an idea they can come in and take over, and take guns away, the stupidest place they could come is West Texas," said Bill Ford, a commissioner in Tom Green County whose district includes Christoval. "There's more guns and ammo here and more people willing to use them than any combat area they've fought in. Bad things aren't going to happen here."
"Jade Helm is a challenging eight-week joint military and Interagency (IA) Unconventional Warfare (UW) exercise conducted throughout Texas, New Mexico, Arizona, California, Nevada, Utah and Colorado," according to an unclassified military document announcing the training drill, which runs from July 15 through September 15.
Multiple branches of the US military, including Green Berets, Navy Seals, and the 82nd Airborne Division, will participate in the 8-week long exercise, which may result in "increased aircraft in the area at night."
Troops will be tasked with honing advanced skills in "large areas of undeveloped land with low population densities," and will work alongside "civilians to gain their trust and an understanding of the issues."
The exercise, in which some participants will be "wearing civilian clothes and driving civilian vehicles," lists Texas and Utah as "hostile" territory.
According to the document, Texas was chosen due to the state's "historically supportive… efforts to prepare our soldiers, airmen, marines and sailors to fight the enemies of the United States."
Despite the document's claims, multiple Army training manuals and studies in the past have specifically targeted such states due to concerns over the growing influence of right-leaning ideologies and groups, such as the "Tea Party."
A leaked 2012 US Army Military Police training manual, entitled "Civil Disturbance Operations," described how soldiers would be ordered to confiscate firearms and kill American "dissidents." The manual also revealed that prisoners would be detained in temporary internment camps and "re-educated" to gain a new appreciation of "U.S. policies," in accordance with U.S. Army FM 3-19.40 Internment/Resettlement Operations.
Also in 2012, a Department of Homeland Security-funded study characterized Americans "suspicious of centralized federal authority," and "reverent of individual liberty" as "extreme right-wing" terrorists.
In the past, large scale domestic military exercises have also included foreign countries.
During a training drill in April 2012, the United States trained soldiers from Russia, hosted in Fort Carson, Colorado, on how to target American terrorists.
And just last year, US Special Forces and commandos trained with troops from 16 foreign nations, including Colombia, France and Germany, in Tampa, Fl., practicing how to coordinate aerial, ground and aquatic operations.
Although nations can benefit from joint drills, the exercises also serve to blur the lines of national sovereignty, slowly leading to the formation of a North American Union, as mentioned by former CIA head General David Petraeus.
Another troubling aspect of domestic drills is the apparent erosion of the Posse Comitatus Act, which the 2007 John Warner National Defense Authorization Act scaled back to allow the armed forces to "Restore Public Order" during events declared national emergency.
America is already under martial law. Jade Helm 15 will not bring martial law to America, it is already here, as this article will make clear. Jade Helm 15 is the manifestation of martial law. At minimum, this drill is the practice run for the implementation for the 17 principles associated with martial law. In the worst case scenario, this drill will go live and all 17 martial law principles, already in place, will go live as well.
Seventeen Martial Law Characteristics
Most experts agree that hard core martial law contains the following 17 essential elements. This article discusses where America is at with regard to the 17 categories.
1-Mass Roundups of Political Dissidents
Yes x No
Jade Helm 15 provides for the extraction of political dissidents. JH 15, as evidenced by the Ft. Lauderdale photos and videos was clearly an "extraction of political dissidents drill".
In some ways, JH 15 is an extension of an obscure PROGRAM that is still in place and it is known as Plan C. According to documents recently released to MuckRock, Plan C was a 1956 plan designed to arrest 13,000 subversives along with foreign diplomats if the cold war should go hot.
At some point, Plan C gave way to what is referred to as Main Core. Wikipedia describes Main Core as a massive database, which began in the 1980s by the federal government. The program consists of the gathering of personal and financial data of millions of U.S. citizens believed to be threats to national SECURITY. The data primarily originates with the NSA and the FBI, CIA, and alphabet soup agencies. The program grew to unprecedented levels following 9/11 and the implementation of the Patriot Acts I and II. The data is collected and stored without warrants or court orders. The database's name is derived from the fact that it contains "copies of the 'main core' or essence of each item of intelligence information on Americans produced by the FBI and the other agencies of the U.S. intelligence community". Today, we know from insider sources, that the creation of the "Red List" comes from this program. The Red List is a compilation of names deemed to be the potential leadership of any dissident movement. The program refers to dissidents as "Favorites" and they AND their close associates are targeted for elimination with extreme prejudice PRIOR to the implementation of martial law. There will be more on executions later in the article. From the best available information, this is precisely what JH 15 is preparing for.
2-Dusk to dawn curfews
Yes x No
Every martial law extraction drill and subsequent mass roundups contain dusk to dawn curfews. Simply put, the establishment does not want to permit the dissidents to meet and plan under the cover of darkness. More importantly, when the roundups start, the authorities need to know where to find their targets of interest.
3-Rationing of essential resources
Yes x No
4-The seizing of personal assets (e.g.) food and water
Yes x No
5-Control over all food and water
Yes x No
In December, 1974, National Security Council directed by Henry Kissinger completed a classified study entitled, "National Security Study Memorandum 200: Implications of Worldwide Population Growth for U.S. Security and Overseas Interests." The study was based upon the unproven claims that population growth in Lesser Developed Countries (LDC) constituted a serious risk to America's national Security.. Population was mandated to be reduced in the LDC's. THIS PROGRAM COULD JUST AS EASILY BE TURNED ON AMERICANS AND THE FOLLOWING DATA STRONGLY SUGGESTS THAT THIS HAS ALREADY HAPPENED!
With the stroke of his pen, Obama has total and absolute control over all food where his EO 13603 states:
(1.e) "Food resources" means all commodities and products, (simple, mixed, or compound), or complements to such commodities or products, that are capable of being ingested by either human beings or animals, irrespective of other uses to which such commodities or products may be put, at all stages of processing from the raw commodity to the products thereof in vendible form for human or animal consumption. "Food resources" also means potable water packaged in commercially marketable containers, all starches, sugars, vegetable and animal or marine fats and oils, seed, cotton, hemp, and flax fiber, but does not mean any such material after it loses its identity as an agricultural commodity or agricultural product.
(f) "Food resource facilities" means plants, machinery, vehicles (including on farm), and other facilities required for the production, processing, distribution, and storage (including cold storage) of food resources, and for the domestic distribution of farm equipment and fertilizer…"
This unconstitutional EO is particularly disturbing in that it clearly states that the government has control over anything that is "capable of being ingested by either human beings or animals…" If you thought that you and Fido were going to get through the coming food crisis by storing and consuming dog food, think again.
How will farmers maintain the nation's food supply when all fertilizer, their farm equipment and all of their vehicles are under the control of this sociopathic President or the next power-hungry President? Obama has set himself to be the modern day Stalin in which he would use food as a weapon to force compliance upon the American people just as Stalin did to the people of Ukraine.
6-The prohibition of weapons of any kind including guns, knives or chemicals which can be turned into explosives
Yes No___In Progress x
Despite all the rhetoric with regard to gun control, Obama has been able to surprisingly put very little into law. He has banned certain AR-15 ammunition by administrative fiat, but he has made negligible progress toward getting the guns out of American hands. It is likely that Obama, once martial law has been officially implemented, will declare that any possession of guns will be a felony and all that do not turn in their guns will be guilty of a felony and sent to prison without any due process.
There is however, one very concerning act that involved the Secretary of State, John Kerry, and President Obama and that would be the illegal and unconstitutional signing of the UN Small Arms Treaty which effectively bans all private ownership of guns. There is one provision in the treaty that has received absolutely no attention in our mainstream media and that is the section having to do with confiscation:
State parties to the ATT "may seek assistance" in implementing the Treaty. The ATT indicates that a voluntary trust fund was established to promote the establishment of a multinational gun confiscation program.
I have learned the JH 15 will also use its "mutli-national" partners in the drill. Therefore, it is difficult to believe that gun confiscation is not on the list of activities for JH 15.
7-The confiscation of property, homes and businesses
Yes x No
8-Arrests without due process
Yes x No
9-Massive "papers please" checkpoints with intrusive searches
Yes x No
All across the country, the MERS theft, by the mega banks (e.g. Bank of America, Wells Fargo) has increased through the "assistance" of a very favorable set of judicial rulings which allows the banks to steal the homes of Americans without so much as a mortgage note. In many states, these proceedings can take place without even setting foot inside of a courtroom. The estimated number of American households who have been victimized by MERS is estimated at 13 million (Personal communication and radio appearance disclosure on The Common Sense Show by Dave Kreiger, the author of Clouded Titles).
class="style3″ style="border-style: none; border-color: inherit; border-width: 0px; margin: 0px 0px 15px; padding: 0px; outline: 0px; vertical-align: top; background-color: rgb(255, 255, 255); font-family: Gudea, sans-serif; line-height: 22px; display: block; color: rgb(94, 94, 94); font-style: normal; font-variant: normal; font-weight: normal; letter-spacing: normal; orphans: 2; text-align: start; text-indent: 0px; text-transform: none; white-space: normal; widows: 2; word-spacing: 0px; -webkit-text-size-adjust: auto; -webkit-text-stroke-width: 0px; background-repeat: initial initial;"> The most obvious statement in this article is to declare that the Obama administration has the authority to arbitrarily arrest American citizens, detain them indefinitely, and do whatever they please with these individuals. I am referring to the National Defense Authorization Act (NDAA) which granted the federal government to play judge, jury and executioner. The day the NDAA passed Congress, that was the day that the Constitution was declared "Dead on Arrival".
The government has moved to a "Papers Please" society with the implementation of the REAL ID which is a document which contains highly personal information and will soon store everything about you including your financial information. Beginning later this year and extending into 2016, the public will not be able to travel, even within the United States, or operate a motor vehicle without this document. This is ultimate in Big Brother surveillance and control.
10-Forced relocation
Yes x No
11-Forced conscription into various labor camps and even into the military
Yes x No
FM 3-39.40 Internment and Resettlement Operations<> states when families are transported to the I/R camps, husbands will be segregated from wives and children from parents.
> "Detainees may also be segregated by ethnic and family groups and further segregated to protect vulnerable individuals. Additionally, detainees may be categorized by behavior (cooperative, neutral, or combative) to accurately resource guards and facilities". Juveniles within the I/R population are typically segregated from the general population. (See DODD 3115.09.)
Does this sound like forced relocation to you. If the government wasn't planning to carry out this action, then why would they grant themselves the authority to do so?
All of the following references to EO 13603 are verbatim copy and paste of the referenced PDF file entitled, Executive Order 13603.
PART VIII—GENERAL PROVISIONS
"Sec. 801. In addition to the definitions in section 702 of the Act, 50 U.S.C. App. 2152, the following definitions apply throughout this order:
(a) ''Civil transportation'' includes movement of persons and property by all modes of transportation in interstate, intrastate, or foreign commerce within the United States, its territories and possessions, and the District of Columbia, and related public storage and warehousing, ports, services, equipment and facilities, such as transportation carrier shop and repair facilities. ''Civil transportation'' also shall include direction, control, and coordination of civil transportation capacity regardless of ownership. ''Civil transportation'' shall not include transportation owned or controlled by the Department of Defense, use of petroleum and gas pipelines, and coal slurry and pipelines used only to supply energy production facilities directly.
The above effectively restricts movement of all goods, services and people.
AGENCIES CONCERNED WITH INTERNMENT AND RESETTLEMENT
1-40. External involvement in I/R missions is a fact of life for military police organizations. Some government and government-sponsored entities that may be involved in I/R missions include—
International agencies.
International Committee of the RED CROSS (ICRC).
International Organization of Migration.
U.S. agencies.
Local U.S. embassy.
Department of Homeland Security.
U.S. Immigration and Customs Enforcement (ICE).
Federal Emergency Management Agency.
Again from Executive Order 13603, Section 502 provides for the introduction of slave labor to America.
Sec. 502. Consultants. The head of each agency otherwise functions under this order is delegated the authority of the President under sections 710(b) and (c) of the Act, 50 U.S.C. App. 2160(b), (c), to employ persons of outstanding experience and ability. experience. compensation and to employ experts, consultants, or organizations. The authority delegated by this section may not be redelegated.
This means that Obama, and his fellow communists, can seize any resource, property, or person at any time for any reason, including being able to force that person to perform assigned labor without being paid.
There is only ONE word for forced, "uncompensated employment". That word is slavery. Congratulations President Obama, you have effectively repealed the 13th Amendment to the Constitution.
12-Outlawing of free speech
Yes x No
13-Control of the media
Yes x No
14- Massive surveillance programs and snitch programs
Yes x No
15-The total control or elimination of religion
Yes x No
The Net Neutrality Act implemented by administrative fiat by the FCC has given the government complete power over all media and ultimately all free speech.
Religion is in grave danger in this administration and the regulations of the Clergy Response Team clearly shows the intent of the federal government. At the time of citizen roundups, the decision has been made to eliminate Christianity as a viable and legal practice as evidenced by the revelations of Pastor Walt Mansfield who provided me with the details in an exclusive interview following his training with the Clergy Response Team. It is highly recommended that you read this article as it details that FEMA camps are real, the Pastor's role in helping to maintain order within a FEMA camp and the fact that Christianity will not be allowed. Further, Pastor Mansfield revealed that Clergy Response Team pastors are required to spy on those that they minister to. Finally, Mansfield revealed that reading from the Bible is expressly forbidden because Christianity is a form of persecution.
16-Executions without due process of law
Yes x No
17-Total suspension of the Constitution
Yes x No
When Executive Order 13603 and the NDAA were allowed to stand, this effectively destroyed the Constitution and they made all civil liberties to be null and void.
Most Americans do not realize that executions without due process of law have already been carried out against American citizens. The primary TARGETED individual, Anwar al-Awlaki, was a radical Muslim cleric whom U.S. officials said was involved in planning Al Qaeda operations and terror attacks. Besides al-Awlaki, Samir Khan, Jude Kennan Mohammed and Awlaki's son, Abdulrahman Anwar al-Awlaki, were executed by drones according to Attorney General Holder. The precedent has been set and Holder declared the authority to carry out unwarranted executions. These were American citizens who were executed without being afforded the due process of law. Either our laws apply to everyone, or they apply to nobody.
Conclusion
Jade Helm 15 is not the problem, it is the manifestation of the problem. And what is the problem? How can anyone look at the 17 points raised in this article and not conclude that we are already under martial law and are awaiting our final disposition? Jade Helm 15 might just be that final disposition, and if it is not JH 15, it will be something like it right on its heels.
Finally, when martial law and these 17 points are realized, there will be an international flavor to the process and this will be the topic of a future article.
Dave Hodges
HR-645 – FEMA CAMPS – Dreams of the Great Earth Changes
www.greatdreams.com/political/HR-645.htm –
*Congress Seeks To Authorize & Legalize FEMA Camp Facilities Published on 01-26-2009.
Source: www.roguegovernment.com. By: Lee Rogers A new bill has …
Concentration Camp Locations – Dreams of the Great Earth Changes
www.greatdreams.com/concentration-camp-locations.htm –
Find the FEMA Concentration Camp Near You! OR. Air Force Bases per State and Country.
UPDATED 3-21-08. If you live anywhere near one of these camps and …
CONCENTRATION CAMPS IN THE U.S.?
www.greatdreams.com/concentration.htm –
Then the movie ASTEROID came out and it showed FEMA taking all the people in the area
where the meteor was going to come down to a large camp which …
CONCENTRATION CAMP PLANS FOR U.S. CITIZENS
www.greatdreams.com/concentration_camp_plans.htm –
Aug 26, 2007 … This is my 1979 UPDATED report on the concentration camp
PROGRAM of …… "Those on the Red well be taken to FEMA concentration campsand …
Dee Finney's blog – December 25, 2011 – page 96 – FEMA CAMPS
www.greatdreams.com/blog/dee-blog96.html
Dec 25, 2011 … TOPIC: FEMA CAMPS. I HAD THREE DREAMS IN ONE MONTH
WHICH REFERRENCED COUNTY PROBLEMS. To preface this page, I'm …
Dee Finney's blog – January 22, 2014 – page 637 MARTIAL LAW …
www.greatdreams.com/blog-2014/dee-blog637.html – ..
Jan 22, 2014 … Find the FEMA Concentration Camp Near You! OR.
Air Force Bases per State and Country. UPDATED 3-21-08. If you live anywhere near one of …
Dee Finney's blog October 18, 2012 page 343 HOMELAND …
www.greatdreams.com/blog-2012-3/dee-blog343.html
Oct 18, 2012 … … The prisoner of War Detention camps that have been built All over the USA,
The TSA, Homeland SECURITY, FEMA agencies and many other …
Dee Finney's blog May 7, 2012 page 215 EXTREME PREJUDICE …
www.greatdreams.com/blog-2012-2/dee-blog215.html
May 7, 2012 … Army manual for re-education camps applies to US citizens ….
Dee Finney's blog – December 25, 2011 – page 96 – FEMA CAMPS.
Dee Finney's blog May 6, 2013 page 490 – DRILLS, DRILLS, AND …
www.greatdreams.com/blog-2013-2/dee-blog490.html – ..
May 6, 2013 … The next time you see FEMA or DHS running a terror drill in your city ……
so- called "drills" could, easily, coerce the sheeple into FEMA camps.
Dee Finney's blog July 30 2012 page 261 – MARTIAL LAW
www.greatdreams.com/blog-2012-2/dee-blog261.html –
Jul 30, 2012 … Martial Law and FEMA . …… massive leaps forward in US military presence
on American streets and the emergence of FEMA camps across the …
SURVIVAL AND SELF-SUFFICIENCY LINKS
www.greatdreams.com/survival.htm –
Jul 29, 2014 … FEMA CAMPS COMING TO YOUR AREA SOON USING CLOSED … FEMA Civil Defense Rad Meters & Dosimeters FAQ · Blast & Fallout …
Secret FEMA Plan To Use Pastors as Pacifiers in Preparation …
www.greatdreams.com/political/secret_fema_plan.htm
May 24, 2006 … The FEMA directors told the Pastors that attended that it was their job to … He also highlighted how detention camps had been renamed to give …
A THIRD PEAL HARBOR? – Dreams of the Great Earth Changes
www.greatdreams.com/war/third-pearl-harbor.htm –
Surely, an amazing sentence, when we remember that outside the camps their … FROM: http://pimpinturtle.com/2008/02/01/fema-ordered-102000-boxcars-with- …
DREAMS OF THE GREAT EARTH CHANGES
www.greatdreams.com/ –
MARTIAL LAW. CONCENTRATION CAMPS ….. FEMA CAMPS COMING TO YOUR AREA SOON … FEMA PUBLISHES PREPAREDNESS DOCUMENT – PDF .
Dee Finney;s blog- Deceember 10, 2011 – page 80 – BILL OF …
www.greatdreams.com/blog/dee-blog80.html
… $350 Million to build the FEMA camps and before I filmed the first law enforcement briefing by the "Department of Homeland SECURITY for World Government.
Dee Finney's blog February 20, 2012 page 140 OVERCROWDING …
www.greatdreams.com/blog-2012/dee-blog140.html
Feb 20, 2012 … These camps are all located near super-highways or near railroad tracks …. Dee Finney's blog – December 25, 2011 – page 96 – FEMA CAMPS.
FEMA TERRORIST DRILL – 09 – Dreams of the Great Earth Changes
www.greatdreams.com/terror/FEMA-exercise-09.htm –
Jul 31, 2009 … According to FEMA, NLE 09 is designated as a Tier I National Level ….. trained in guerrilla camps there and in Pakistan, the indictment said.
EVACUATIONS and BIO-WARFARE IN AMERICA
www.greatdreams.com/political/evacuations.htm
For more information about NLE 09, contact the FEMA News Desk: ….. CAMP FEMA – Thought CRIME Division … The concentration camps are already built:.
DEE FINNEY BLOG INDEX PAGE 1 2011
www.greatdreams.com/blog/dee-blog-index.html –
WITCHES WARLOCKS, page 80. DEC 10, 2011 UPDATED. Dec. 27, 2011. BILL OF RIGHTS CONSTITUTION BILL S 1867. FEMA CAMPS. page 10 july 29, 2011
THE UNITED NATIONS – A VISION AND THE REALITY
www.greatdreams.com/unvision.htm – Mar 2, 2000 … "Those on the Red well be taken to FEMA concentration camps and immediately executed. The Blue will also be taken to FEMA camps and be …
EVACUATION – 2010 – Dreams of the Great Earth Changes
www.greatdreams.com/evacuation-2010.html –
Jun 13, 2010 … His comments in the following quote: "I know FEMA has already scoped out FEMA camp locations, i.e. vacant lots and swaths of land that can …
HOW THE GOVERNMENT BLEW UP MANHATTAN – 9-11-2001
www.greatdreams.com/trade_blew_up.htm –
Sep 11, 2001 … And many of you will end up in FEMA concentration camps, I assure you. In the case of these most recent "terrorists" attacks (the only terrorists …
Andy Pero, Montauk 'Superman' Programming Victim (June 13, 2000)
www.greatdreams.com/Montauk_Superman_Programming.htm –
Jun 13, 2000 … Letters | Tavistock Institute | U.S. Concentration Camps | FEMA | Aliens Are … I have also been used in the Montauk chair while at Camp Hero, …
EAT, DRINK, AND BE MERRY, FOR TOMRROW WE DIE
www.greatdreams.com/sacred/eat-drink-be-merry.html –
Jun 13, 2010 … His comments in the following quote: "I know FEMA has already scoped out FEMA camp locations, i.e. vacant lots and swaths of land that can …
RED LINE – BLUE LINE – THE DREAM AND THE REALITY
www.greatdreams.com/redline.htm – "Those on the Red well be taken to FEMA concentration camps and immediately executed. The Blue will also be taken to FEMA camps and be given the choice …
Dee Finney's blog November 11, 2013 – page 593 WORST STORM …
www.greatdreams.com/blog-2013-3/dee-blog593.html
Nov 11, 2013 … THE HURRICANE/TYPHOON SEASON OF 2001 · WEATHER ANOMALIES · U.S. CONCENTRATION CAMPS – FEMA · NATIONAL .
ON THE BEACH – IT'S JUST A MOVIE – RIGHT?
www.greatdreams.com/atomic.htm –
"Those on the Red well be taken to FEMA concentration camps and immediately executed. The Blue will also be taken to FEMA camps and be given the choice …
MIND CONTROL DATABASE – Dreams of the Great Earth Changes
www.greatdreams.com/mind_control.htm –
8-26-07 – LIST OF CAMPS BY STATE 8-26-07 ….. Who are FEMA, the MJTF, and the FINCEN? An insider reveals a taste of things to …
NEW WORLD ORDER – Dreams of the Great Earth Changes
www.greatdreams.com/new_world_order_controls.htm
Dec 12, 2004 … … population control, media control, mind control, gun control, The United Nations, FEMA and concentration camps, underground bases
DEE FINNEY'S BLOG JULY 8, 2012 – PAGE 251 EVERYTHING FOX
www.greatdreams.com/blog-2012-2/dee-blog251.html
Jul 8, 2012 … His comments in the following quote: "I know FEMA has already scoped outFEMA camp locations, i.e. vacant lots and swaths of land that can …
Dee Finney's blog – January 14, 2014 – page 631 – MEET THE …
www.greatdreams.com/blog-2014
Jan 14, 2014 … This reminds me way too much like when I got attacked by a psychic baseball bat by one of the three letter agencies over the FEMA camps I …
DEES DREAMS AND VISIONS – JANUARY 2014
www.greatdreams.com/jan-2014.html
Jan 1, 2014 … This reminds me way too much like when I got attacked by a psychic baseball bat by one of the three letter agencies over the FEMA camps I
NEW WORLD ORDER CONSPIRACIES
www.greatdreams.com/cnsprcy.htm – the "relocation" of 110,000 Japanese to detention camps. 1943 …. Existence ofFEMA's "Defense Resources Act"; with provisions to suspend the Bill Of …
DREAMS OF BOMBS – Dreams of the Great Earth Changes
www.greatdreams.com/bombs.htm –
"Those on the Red well be taken to FEMA concentration camps and immediately executed. The Blue will also be taken to FEMA camps and be given the choice …