https://letterboxd.com/pd187/list/gangstalking/
From above post:
GANGSTALKING
"The enemy would not attack us if we weren't something valuable. Thieves don't break into empty houses." – t.i.paladin
street theater:–voice2skull/deja v2koodoo—the nightmare world of targeted individuals:
www.vanityfair.com/news/2011/01/quaid-201101
honorable mentionz: gaslight/gothika/unsane/overboard (not a gang?)
www.whale.to/b/557678_10151499602280495_421723478_n.jpg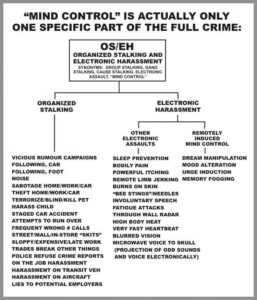 Webmaster Introduction: This link features the following 32 movies, most of which are psychological and/or sci-fi horror films….. come to think of it, much like "gangstalking-electronic torture." The Satanic and cult aspects are strongly represented here along with themes of mind control, bullying on steroids, Scientology, torture voyeurism, and artificially-induced schizophrenia. Interestingly, dates of release of the movies spans the period between 1943 and 2021.
Hmmm… Historically, who controls Hollywood?
1) Rosemary's Baby (1968)
2) The Truman Show (1998)
3) Society (1989)
4) The Game (1997)
5) Mother! (2017)
6) Messiah of Evil (1973)
7) Dead and Buried (1981)
8) Naked Lunch (1991)
9) The Wicker Man (1973)
10) Hot Fuzz (2007)
11) Eyes Wide Shut (1999)
12) Videodrome (1983)
13) The Conversation (2000)
14) Halloween III (1982)
15) April Fool's Day (1986)
16) They Live (1988)
17) Seconds (1966)
18) The Man With One Red Shoe (1985)
19) The Stuff (1985)
20) Dark City (1998)
21) Jacob's Ladder (1990)
22) Carnival of Souls (1962 and 1998)
23) Stuart Bliss (1998)
24) Matrix Resurrections (2003 and 2021)
25) Simulation of Paranoid Schizophrenia (2013)
26) L. Ron Hubbard: An Introduction to Scientology (1966)
27) The 7th Victim (1943)
28) Angel Heart (1987)
29) Star Whackers (2011)
30) Control Factor (2003)
31) Ministry of Fear (1944)
32) Clean, Shaven (1993)
This link is no longer available: