NSA Government Over Reach vs. Privacy Rights
From: NSA Government Over-Reach vs. Privacy Rights
Img frm: http://tiny.cc/4h26nx ~ Tracy Turner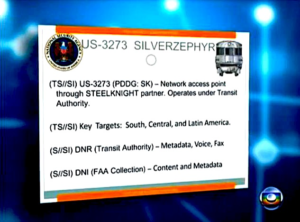 Whether it is ALPR (Automatic License Plate Recognition) cameras and software or NYPD Iris Scan Technology, society is mass surveilled and mass recorded. E-surveillance goes further than Edward Snowden's supposed leaks or red herring operation. Mass surveillance programs of Americans are: Boundless Informant, BULLRUN, Carnivore, Magic Lantern, MAINWAY, PRISM, Sentry Eagle,
Stellar Wind, Utah Data Center and X-Keyscore.
Boundless Privacy Invasion, Blarney, Stormbrew and other programs keep eroding our freedoms and liberties; who owns your eye irises, you or NYPD?
Skeptical, don't believe in government over reach in spying on the populace? Then why are tax dollars being wasted on Mossad / NSA: BLARNEY, BLUEANCHOR, BLUEZEPHYR, BOUNDLESS INFORMANT, BULLRUN, CARNIVORE, CHALKFUN, CHEESY NAME, COBALTFALCON, CONVEYANCE, DARKTHUNDER, DROPMIRE, ECHELON, EDGEHILL, EVILOLIVE, FACELIFT, FAIRVIEW, FALLOUT, FASTSCOPE, FLYING PIG, HARVEST, HUSH PUPPY, JUGGERNAUT, LITHIUM, LOPERS, MADCAPOCELET, MAGIC LANTERN, MAIN CORE, MAINWAY, MARINA, MATRIX, MINARET, MONKEYROCKET, MOONLIGHTPATH, NUCLEON, OAKSTAR, OCTAVE, ORANGEBLOSSOM, ORANGECRUSH, PINWALE, PRIMECANE, PRINTAURA, PRISM, RAMPART, SCISSORS, SHAMROCK, SHELLTRUMPET, SHIFTINGSHADOW, SILVERZEPHYR, SKIDROWE, SPINNERET, SPYDER, STEELFLAUTA, STEELKNIGHT, STELLAR WIND, STORMBREW, TEMPORA, THINTHREAD, TOYGRIPPE, TRACFIN, TRAILBLAZER, TRANSIENT THURIBLE, TRANSX, TUNINGFORK, TURBULENCE, TURMOIL, TUTELAGE, UPSTREAM, X-KEYSCORE, YACHTSHOP.
AQUACADE, previously designated Rhyolite, was a class of SIGINT spy satellites operated by the National Reconnaissance Office for the United States Central Intelligence Agency.
BLARNEY gathers metadata. Take a picture and as a hypothetical Blarney records the GPS, date, time, type of phone camera used, etc. Meta data is data about data. Blarney is a dragnet gathering data about data online.
BLUEANCHOR – Private vendor network access point for YACHTSHOP.
BLUEZEPHYR is a subprogram of Oakstar. Everything online that travels is upstream or downstream, OAKSTAR deals with upstream data.
BOUNDLESSINFORMANT is a big data analysis and data visualization tool used by the United States National Security Agency (NSA). It gives NSA managers summaries of the NSA's world wide data collection activities by counting metadata.
DISHFIRE is a covert global surveillance collection system and database run by the United States of America's National Security Agency (NSA) and the United Kingdom's Government Communications Headquarters (GCHQ) that collects hundreds of millions of text messages on a daily basis from around the world.[1] A related analytic tool is known as Prefer.
ECHELON, originally a code-name, is now used in global media and in popular culture to describe a signals intelligence (SIGINT) collection and analysis network operated on behalf of the five signatory nations to the UKUSA Security Agreement[1] (Australia, Canada, New Zealand, the United Kingdom, and the United States, referred to by a number of abbreviations, including AUSCANNZUKUS[1] and Five Eyes).
EVILOLIVE – the NSA doubled the amount of foreign data it can collect into 1EF (one-end-foreign) solution. Doubling its foreign metadata mining was a collossal amount of spy data. Despite those assurances, the collection of Internet metadata continues today. A second Guardian story today offers some sketchy details about several programs, including one that allows the NSA "to direct more than half of the Internet traffic it intercepts from its collection points into its own repositories." That program, codenamed with the palindrome EvilOlive, is a new capability announced by the NSA's Special Source Operations (SSO) in December 2012
FAIRVIEW is a secret mass surveillance programme run by the National Security Agency, aimed at collecting phone, internet and e-mail data in bulk from the computers and mobile telephones of foreign countries' citizens
FRENCHALON is the nickname given to French signal intelligence system in reference to its Anglo-American counterpart ECHELON.
MYSTIC is a voice interception program used by the National Security Agency. The program recorded every phone call made within a non-specified country for thirty days. According to former NSA Deputy Director John C. Inglis, the country is Iraq.[1] According to information later published by The Intercept, the country is the Bahamas.[2] After thirty days, the recorded phone calls are overridden by newer phone calls, although concern was raised that the NSA may start storing collected phone calls indefinitely.[3][4] Wikileaks later claimed that Afghanistan was being monitored by the NSA in a similar fashion.[5]
OAKSTAR is an umbrella program involving surveillance of telecommunications, it falls under the category of "Upstream collection", meaning that data is pulled directly from fiber-optic cables and top-level communications infrastructure.[1][2] Upstream collection programs allow access to very high volumes of data, and most of the pre-selection is done by the providers themselves, before the data is passed on to the NSA.
PRISM is a clandestine mass electronic surveillance data mining program launched in 2007 by the National Security Agency (NSA), with participation from an unknown date by the British equivalent agency, GCHQ.[1][2][3] PRISM is a government code name for a data-collection effort known officially by the SIGAD US-984XN
STONEGHOST or "Stone Ghost", is a codename for a network operated by the United States' Defense Intelligence Agency (DIA) for information sharing and exchange between the United States, the United Kingdom, Canada and Australia.[1] Other sources say that New Zealand is also participating, and that STONEGHOST therefore connects, and is maintained by the defense intelligence agencies of all Five Eyes countries.
TEMPORA is the codeword for a formerly secret computer system that is used by the British Government Communications Headquarters (GCHQ). This system is used to buffer internet communications that are extracted from fibre-optic cables, so these can be processed and searched.[2] It was tested since 2008 and became operational in the autumn of 2011.
THE PROGRAM (NSA ) Organized stalking, organized harassment, T.I. (Targeted Individual)
YACHTSHOP is under the umbrella of OAKSTAR meaning it pulls upstream data directly from fiber optic cable.
Agencies: ASD BND CSIS CSEC DGSE FSB GCHQ GCSB
MISRI MSS NGA NSA NRO PLA RAW
In plainer English, NSA intends to own the Internet globally. The programs above are designed to confuse and befuddle, but at the end of 2015 the NSA will own the web and e-commerce will be pennies on the Dinar. NSA Target Individual aka Organized Harassment more about here.
This page and its links http://electrospaces.blogspot.com/ were updated 10/22/2014 and has much new data "overlooked" by the faux news consortium. The NSA is a case study in privacy erosion/government over reach including the Mossad Unit 8200 and the thefts of stocks, credit card fraud and tech thefts.
Some thoughts of Americans on the NSA's Utah Data Center (part of Stellar Wind blowing through our lives)… The U.N. thinks we need to rein in mass surveillance, but so far it is far past Orwell's predictions.
tags: Mossad / NSA: BLARNEY, BLUEANCHOR, BLUEZEPHYR, BOUNDLESS INFORMANT, BULLRUN, CARNIVORE, CHALKFUN, CHEESY NAME, COBALTFALCON, CONVEYANCE, DARKTHUNDER, DROPMIRE, ECHELON, EDGEHILL, EVILOLIVE, FACELIFT, FAIRVIEW, FALLOUT, FASTSCOPE, FLYING PIG, HARVEST, HUSH PUPPY, JUGGERNAUT, LITHIUM, LOPERS, MADCAPOCELET, MAGIC LANTERN, MAIN CORE, MAINWAY, MARINA, MATRIX, MINARET, MONKEYROCKET, MOONLIGHTPATH, NUCLEON, OAKSTAR, OCTAVE, ORANGEBLOSSOM, ORANGECRUSH, PINWALE, PRIMECANE, PRINTAURA, PRISM, RAMPART, SCISSORS, SHAMROCK, SHELLTRUMPET, SHIFTINGSHADOW, SILVERZEPHYR, SKIDROWE, SPINNERET, SPYDER, STEELFLAUTA, STEELKNIGHT, STELLAR WIND, STORMBREW, TEMPORA, THINTHREAD, TOYGRIPPE, TRACFIN, TRAILBLAZER, TRANSIENT THURIBLE, TRANSX, TUNINGFORK, TURBULENCE, TURMOIL, TUTELAGE, UPSTREAM, X-KEYSCORE, YACHTSHOP Mossad – Prism- Verint, Narus, NICE, Amdocs, Unit-8200, Pioneer, Payonner, Kidon, Thompson Reuters, Oracle, AT&T, Prism Spinoff, Unit 8200 Spinoff, Egypt Telecom, Atlantic Bell, France Telecom, Ministry of Truth, PoP, Cisco, NSA, Spyware, StuxNet, Media, Brain, Pentagon, Packet, Flame, Sniffer, Deep Packet Sniffer, European Telephone…… Canada Telecom, Brasil Telecom, Linkedin, Russia Telecom, Mossadi, Palentir, White Light, Data, Telecom Employees, MPoP, Packet Switched, Billing Agent, Administrator, IT, Companies, Affiliated, Police, Specialist, Middleware, Iran Telecom, Deny, Italy Telecom, Denial, China Telecommunications Industry, Spy Victims, Amdoc, Hong Kong, Connection, Remote Access, Back Door, Physical Access USA America NSA Prism, mossad, israel, telecom, narus, israeli, france, security, reuters, kidon, Brasil Telecom, Egypt Telecom with Deep Packet Inspection equipment (DPI) technology (Spy Ware), Room 641A, US National Security Agency, Verint, Comverse, Unit 8200,Sandvine (Canada), Allot (Israel), Ixia (USA), Advanced IO (Canada) and Procera Network, Reuters Cartel, NICE, Pioneer, Oracle, ECI, Tnuva, Lumenis, CSG, Intec, MaxBill, Openet, Oracle Billing, NetCracker, Eri, TM Forum. GSS Div, Thomson Reuters Mossad – Verint, Narus, NICE, AMDOC's, Unit-8200, Pioneer, Payoneer, Kidon, Palentir, Comserve, Natsam, AT&T Back Door, Bamford, DGSE, Dragnet, France, Intelligence, ISNU, Israel, Mark Klein, Mossad, Narus, Nicolas Sarkozy, NIE, NSA PRISM, Sigint, Snowden, Surveillance, Verint, Verizon, Deep Packet Inspection DPI, FLAME, STUXNET, Boeing, Microsoft, Apple, Google, Bing, FaceBook, NSA, AMDOC's, Hayden