2EmondiPresentationPDFversion(2)
Webmaster's Comment: This document is a call for research proposals, including universities, government labs, corporations, and other research facilities throughout the world to "create reliable noninvasive and minutely invasive neural interfaces."
It can be deduced, but not yet proven, that the "patient population" referred to in slide 5 refers to "targeted individuals" and that TIs comprise a large portion of the sample population for experimentation.
Slide 10 is:
Technical Descriptions to Include in the Proposal
1. Fabrication description for subcomponents (TA1 and TA2) and nanotransducer (TA2)  Provide a detailed development timeline that describes relevant microfabrication or nanofabrication processes
2. System-level design descriptions
 Describe the components, and a strategy for identifying system parameters
 Describe the underlying physics, how to overcome scattering/attenuation challenges
3. Phase I, II, III demonstration descriptions
 Describe demonstration ideas, justify the chosen method and why it is DoD relevant
4. System integration description
 Identify a system integrator, and describe how to integrate read/write subcomponents
5. Safety and histology description
 Describe procedures to collect the appropriate safety and histology data for FDA approval and to meet N3 metrics
6. Security Measures
 Describe approaches to ensure confidentiality, integrity, and availability to prevent spoofing, tampering, or denial of system
7. Ethical, Legal, and Societal Implications (ELSI)
 Address the potential ELSI implications of the proposed technology
Short Bio of Dr. Al Emondi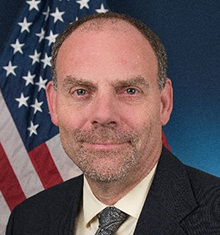 Dr. Al Emondi joined DARPA in June 2017. His focus is on neurotechnology and human-machine interaction. His current work explores novel neural interface system architectures applicable to broad user populations and improving the performance of neural interfaces and their application potential through the use of third-wave artificial intelligence.
Emondi came to DARPA from Space and Naval Warfare Systems Center (SPAWAR) Atlantic, located in Charleston, South Carolina, where he was the chief technology officer (CTO) for SPAWAR Atlantic and served as deputy CTO to the SPAWAR HQ CTO for the Atlantic region. He also led the science and technology competency, which included personnel focused on basic and applied sciences, technology transition, and technology transfer. Before his tour at SSC Atlantic, he was an early pioneer for software-defined radio research initiatives at the Air Force Research Lab in Rome, New York.
Emondi holds a Doctor of Philosophy degree in neuroscience and a Master of Science in electrical engineering from Syracuse University, and a Bachelor of Science degree in electrical engineering from Wilkes University.